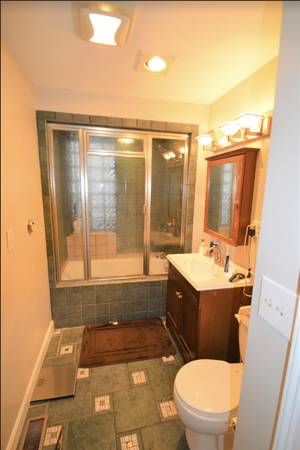 Description
There are two bedrooms for rent in a beautiful four bedroom condo down the street from Harvard Stadium. One bedroom is available immediately, and the other will be available September 1st. 
The unit is the first floor of a three unit building on a quiet street just off N Harvard. There is a large kitchen and living room as the common spaces, and lots of natural light throughout. The main floor has been beautifully renovated and has central air. There is a washer/dryer in unit in the kitchen. I'm in the middle of renovating the basement, which will more than double the common space when it's done in a month (or few). 
I (Josh) am a mechanical engineer working at Boston Dynamics, which I enjoy a lot. In my free time, I like to play frisbee, go hiking/camping with friends, and build things. I'm the owner of the condo, and I've been living here since September 2020. I am a part of City on a Hill Church in Brighton. I'm 31 years old. Cassie is the other roommate. She's very easy going and friendly, and had been living here for several years prior. She's ~the same age as me and is a water polo coach at Harvard. 
We are very clean and enjoy spending time together in the public spaces in our apartment. Bonus points if you play frisbee and will toss in your free time (but no rent discount, sorry :P). We have both been vaccinated for some time now, and would prefer living with tenants who are also vaccinated. 
Rent is $850/month paid on the 1st. This does not include utilities, which range from $60 to 140 depending mostly on heating/AC. 
If you're interested, I'd love to have a zoom call to get to know each other better and see if it could be a good fit. 
More details about the condo:
Transportation –
There is usually street parking in front of the apartment or at least within a block. I haven't lived here during a heavy winter, but I suspect it will be harder with snow. 
Uber/Lyft – usually takes about 10-15 minutes to get you anywhere in Boston
Harvard T Stop – Red Line (15 minute walk)
Boston Landing T Stop – Green Line (5 minutes)
Bus 70 and 70A into Central Square (3 minute walk)
Bus 66/86 into Harvard Square (3 minute walk)
Grocery –
Trader Joes (10 min walk)
Harvard Square (15 minute walk)
Harvard Ave in Allston (5 minute walk)
Star Market (15 minute walk)
no smoking, no pets