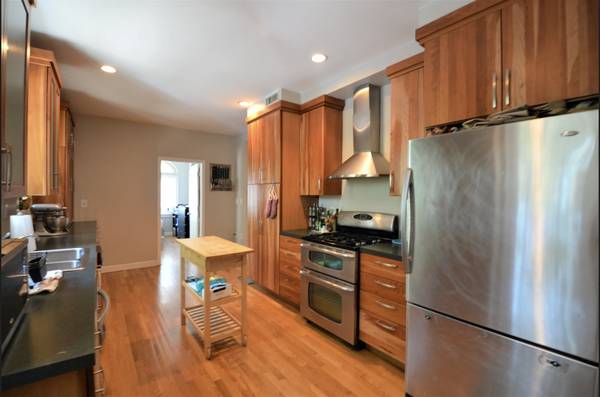 Description
Hello, hope you're having a great day! 
There is one bedroom for rent in a beautiful four bedroom condo down the street from Harvard Stadium. The current tenant unfortunately had to move out due to unemployment. The lease ends Sept. 1st, and the room is available for moving in immediately. 
The unit is the first floor of a three unit building on a quiet street just off N Harvard. There is a large kitchen and living room as the common spaces, and the bedroom gets plenty of natural sunlight. The main floor has been beautifully renovated and has central air. There is a washer/dryer in unit in the kitchen. I'm in the middle of renovating the basement, which will more than double the common space when it's done in a month (or few). 
A little about the roommates…
Josh (Me): I like frisbee, or at least did pre covid. I also enjoy hiking/camping with friends and building robots. I moved to Boston two and a half years ago to be a mechanical engineer at Boston Dynamics. I'm the owner of the condo, and I've been living here since September. I am a part of City on a Hill Church, the Brighton plant. I'm 30 years old (ugh) 
The other two roommates are both very easy going and friendly. They aren't professing Christians. They're in their early 30's. Cassie has been living here for several years. She's a water polo coach at Harvard. Jim moved in around the same time as me. He's been attending City on a Hill Church, which is how we got connected. He does snow removal for Logan airport. He has a dog, Maverick, who stays in Jim's room when he's gone and is out and about in the apartment when he's home. We are very clean and enjoy spending time together in the public spaces in our apartment. Bonus points if you play frisbee and will toss in your free time (but no rent discount, sorry :P)I can share more details about covid safety, but in a nutshell our lifestyles and jobs are not high risk. 
I'd love to have another Christian to live with in the apartment. I've lived with Christians my entire adult life and didn't realize how much I was losing when I stopped doing so the past few months. We're open to both male and female roommates. Cassie has expressed the slight desire to have another female to balance the genders, but also said she's been fine living with three guys (she's kinda more of a bro than me to be honest). I'd love another Christian brother willing to grow and do life together, but am happy either way. 
Rent is $850/month paid on the 1st. This does not include utilities, which range from $60 to 140 depending mostly on heating/AC. I pulled rent down pretty drastically because of covid. When the lease ends in August, I'm planning on pushing it up to a sustainable rent for the cost of the unit. Probably $1000-$1100. 
If you're interested, I'd love to have a zoom call to get to know each other better and see if it could be a good fit. 
More details about the condo:
Transportation –
There is usually street parking in front of the apartment or at least within a block. I haven't lived here during the winter, but I suspect it will be harder with snow. 
Uber/Lyft – usually takes about 10-15 minutes to get you anywhere in Boston
Harvard T Stop – Red Line (15 minute walk)
Boston Landing T Stop – Green Line (5 minutes)
Bus 70 and 70A into Central Square (3 minute walk)
Bus 66/86 into Harvard Square (3 minute walk)
Grocery –
Trader Joes (5 min walk)
Harvard Square (15 minute walk)
Harvard Ave in Allston (5 minute walk)
Star Market (15 minute walk)
no smoking
no additional pets, sorry