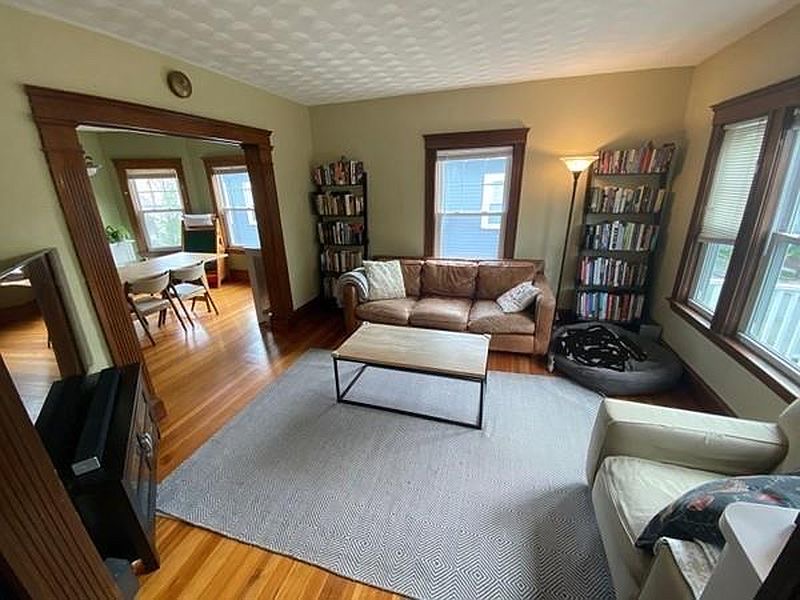 Description
Hello! We have 2 rooms opening up in our 4 bedroom 1 bathroom apartment in Arlington! Both rooms will be available January 1st and you'd be joining two friendly women in their mid twenties.
Rent is $787.50 a month for each bedroom and utilities are $50-100 a month per bedroom (utilities cost depends on the season).
We're right by the Cambridge/Arlington border, near several public transit options.
– 15 minute walk to the Alewife red line stop
– 2 minute walk to the 77 bus stop
– 10 minute walk to the Minuteman bike path
– 12 minute walk to Stop and Shop grocery store
This house has many fun features! These include
– kitchen with center island and separate breakfast nook
– spacious dining room that can seat 10 (perfect for all your ambitious dinner parties)
– 2 adjoining living rooms
– 2nd story porch balcony
– backyard shared with downstairs neighbors (who are very nice!) Also many tasty vegetables grow in this garden
– 2 parking spots (1 in garage, 1 in driveway, neither of which will be used by the 2 roommates who are staying)
– free washer and dryer in the basement (shared with downstairs neighbors)
– lots of basement storage
– small sunroom porch
This lease continues until August 1st and can most likely be renewed. The landlord has been good to work with and is very responsive. We are in a large 3 story house where the two two floors are our apartment and the 1st floor is our downstairs neighbors' apartment.
If you're interested, please reach out on this google form so we can connect and talk more specifics regarding living preferences to see if you'd be a good fit!
https://docs.google.com/forms/d/e/1FAIpQLSfNhBuJ_XC_viz2IQPYmMYdQuTF5SyD3Q97SnLaF9QcVltogQ/viewform?usp=sf_link