Description
About the roommates
We're a community-minded house looking for someone interested in living together in Christian community. (We attend different churches but commit to sharing a weekly meal and enjoy spending time together and supporting each other.)
We're a kind, quiet, and safe community of people who generally like to cook, read, and hang out.
Ideal fit
You are a Christian woman who is kind, communicative, respectful, and interested in cultivating intentional community. You'd appreciate sharing a weekly meal, and you're committed to open communication and working through conflict. You love the idea of living in a home that feels quiet, safe, and peaceful with three other women who feel the same way.
You don't smoke / do drugs (prohibited in lease), and you're not a partier. You're responsible, pay rent / utilities on time, and like working together to keep shared spaces clean.
(Unfortunately, we're not able to consider undergrads-or-younger for this community.)
Note: The house has currently been keeping very strict social distancing and sanitation protocols, and we're only looking for someone who feels comfortable closely abiding by CDC and public health guidelines.
About the house
The house is located right in-between Porter Square and Davis Square, along the Somerville Community Bike Path. It is in easy walking distance to the T and three grocery stores (Bfresh, Star Market, and Pemberton Farms). The home itself is spacious, bright, airy, impeccably maintained, well-decorated, and clean.
The current roommates occupy the 2nd and 3rd story of the home. There are 3 bedrooms & 1 full bathroom on the third floor, occupied and used by the female roommates. The second floor has a large kitchen, dining room, full bathroom, and living room that are shared spaces, as well as a bedroom currently occupied by a married couple (who will be moving out September 1). There is a brand new washer and dryer in-unit and plenty of storage space. The home has heating and central air.
You can see photos of the spaces and the rooms here: https://www.dropbox.com/sh/kppqzhwp55cm2cq/AAAeFTi8oFQr8p1RB6DZe4twa?dl=0
About the lease
The room is available as soon as May 1, 2021, but move-in is flexible. Preference is given to Christian women who are interested in community-minded living and are interested in staying for at least a year.
Other costs: Utilities (internet, compost, gas, and electric) are between $50–$100 monthly, depending on the season. A security deposit ($850) is due when you join the lease. (you'll receive it back when you move out).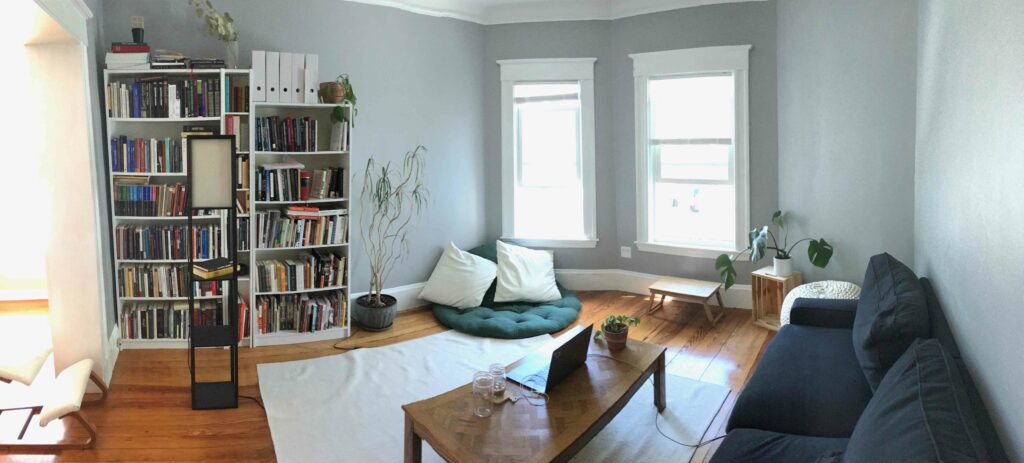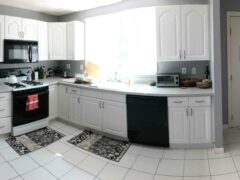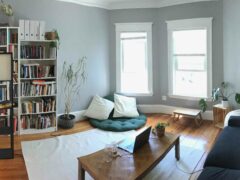 Somerville, Massachusetts