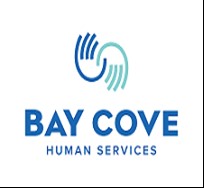 Description
Bay Cove Human Services has been recognized by the Boston Globe as one of the Top Places to Work in 2021. This is the sixth year that Bay Cove has been acknowledged for this distinction.
40 FT 7am-3pm Sat-Wed shift/days negotiable
$17.00 an hour
Mission Statement:
Bay Cove Human Services partners with people to overcome challenges and realize personal potential.
Job Summary:
New Hope Transitional Support Services helps individuals with substance use disorder achieve a recovering lifestyle.  This is accomplished by providing short term structured support services to 60 individuals (men and women) leaving acute treatment services and waiting for a recovery home.  It is the commitment of the program that these services are provided in a safe environment by staff who respect the dignity and diversity of all guests. This position is responsible for all aspects of the kitchen, including cleanliness and sanitization, food preparation and serving, and enforcing the policies and procedures of the program, specifically those related to the kitchen, to help maintain a safe environment for the clients, and provide support in the framework of recovery.
Essential Job Duties and Responsibilities
Adhere to all sanitation regulations governing handling and serving of food and overall cleanliness of the kitchen in accordance with the Board of Health.  Maintain appropriate documentation.

Manage all food related issues, including, but not limited to maintaining inventory, purchasing, donations and volunteers.

Prepare and cook food

Serve meals according to New Hope schedule and adhere to planned recipes and menus.

Carry out kitchen cleaning assignments according to schedule and specific tasks.

Maintain cleanliness and orderliness of work area. Ensure thorough completion of work assignments and cleanliness of kitchen.

Uses kitchen equipment and knives for food preparation appropriately and safely.

Attend staff meetings as scheduled.

Maintain appropriate boundaries with clients and help enforce program rules and regulations.

Ensure that prepared foods are properly maintained and stored in the kitchen.

Ensure that juices are chilled and available to guests on a daily basis for breakfast.

Ensure that bread is defrosted and available to guests on a daily basis.

Prepare and supervise evening snacks for program guests.

Ensure that proper kitchen procedures are followed at all times, including: pre-heating of ovens, use of overhead exhaust fans and sanitizing of pans and utensils.

Ensure that meals are serviced at the proper temperature.

Ensure that dining room tables are properly set and all condiments are set out fifteen minutes prior to meals being served.

Ensure that left over foods are properly re-packaged and stored in refrigerators located in the kitchen.

Ensure that desserts are prepared and properly serviced at the evening meal.

Ensure that all appliances are shut-down after meals have been served and that the kitchen is secured, including proper cleaning and storing of pots, pans and utensils.

Other duties as assigned.
Professional Qualifications:
Must have experience with food preparation and operating a commercial kitchen

High school diploma or GED required

Knowledge of modality specific issues such as homelessness, substance use and mental health

Must be knowledgeable with the Confidentiality of Alcohol and Drug Abuse Patient Record (Title 42CFR-Part 2)
Personal Qualifications:
Good written and verbal communication skills.

Ability to follow and enforce the policies and procedures of the program.

Be able to work independently

Able to accept supervision and be part of a team.

Ability to multitask

A COVID-19 vaccination is a requirement of the position. One COVID-19 shot is acceptable, contingent on the individual receiving the second shot within the allotted time frame.
Certificates, Licenses, Registrations Required:

Serve-Safe certification

CPR/First Aid Training

Must stay current with any modality required trainings

 
Excellent benefits package including health and dental insurance, 403(b) retirement plan, tuition reimbursement/remission, paid vacation & holidays, sick time pay, and employee referral bonuses.