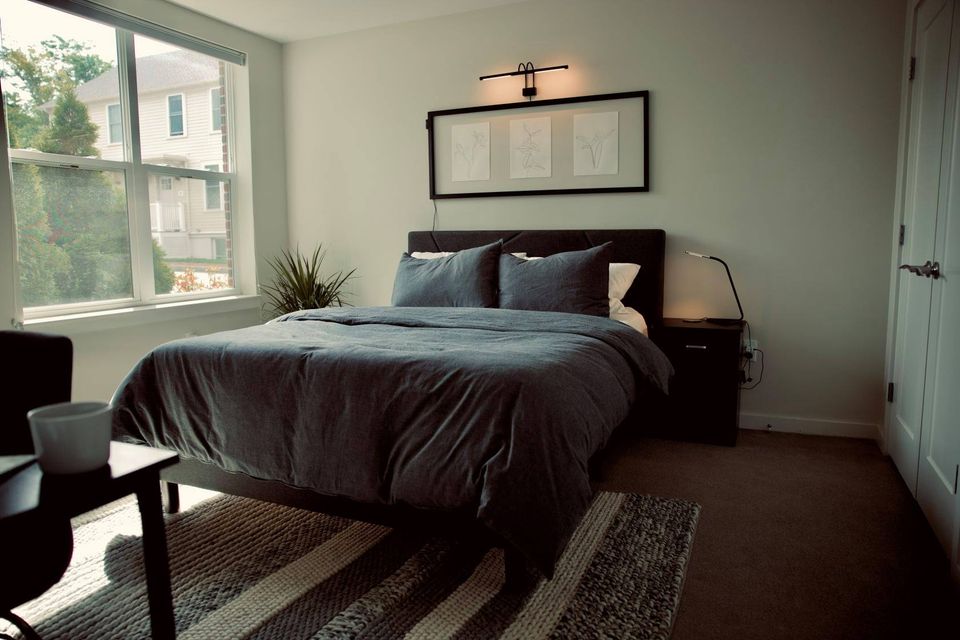 Description
I'm looking for a single or couple to join me at 1 Whittemore Ave, Cambridge, MA 02140 starting on August 1, 2021. 
The Space: 
A one large master bedroom with an attached master bathroom is available at $1710-$2110 (w/out utilities), depending on single/couple. The apartment itself is furnished with couches, a dining room table, a breakfast bar, coat and shoe racks, plenty of storage, and an in-unit washer and dryer. Only the room will come unfurnished.
The Apartment Complex:
High-end apartment complex with gym and common spaces. Amazing amenities. In-unit washer and dryer. Herb garden. Plenty of storage space. 10-minute walk to either Davis Square or Alewife T-station. Free indoor bike parking. The unit also includes 1 parking space visible from the rented bedroom! Close to Trader Joe's/Wholefoods too! For more information, visit https://www.lineacambridge.com/amenities
Roommate:
"Hi! My name is Ryan and I love living in Cambridge, especially at Linea. It's a beautiful apartment and I'm looking for a roommate/couple to sincerely enjoy the space and friendship, especially in a time like this! I work at a pharmaceutical company and am studying for my MBA (online) at Boston University. I enjoy cycling, running, cooking, and deep conversations for just about anything!"
About you:
If you are clean, professional(s) (male or female), in the Cambridge area, and looking for a very bright (morning sun) and modern apartment, this is it!
Work from home setup:
We have high-speed internet (200MB), enough for three people to be working full time. There are various spots around the apartment to work to change up the scenery, but for business meetings, we like to take those in our separate rooms for privacy and noise reduction. There's enough space in the master bedroom for both a queen-size bed and a desk. 
COVID safety: 
We follow a protocol for safety by wearing a mask when leaving the unit and washing our hands each time we return to the apartment as well as avoiding potentially risky situations. Typically, we aim for 1-2 trusted guests into our home at a time, notifying one another when they will be coming or going.
Tour:
If you'd like to see the apartment, email me or send me a message and I can give you a virtual tour; or if you'd like to stop by, that's okay too! Hope to hear from you soon!
Section 8:
Unfortunately, I've confirmed with the leasing company this apartment is not available for housing vouchers or Section 8 housing.