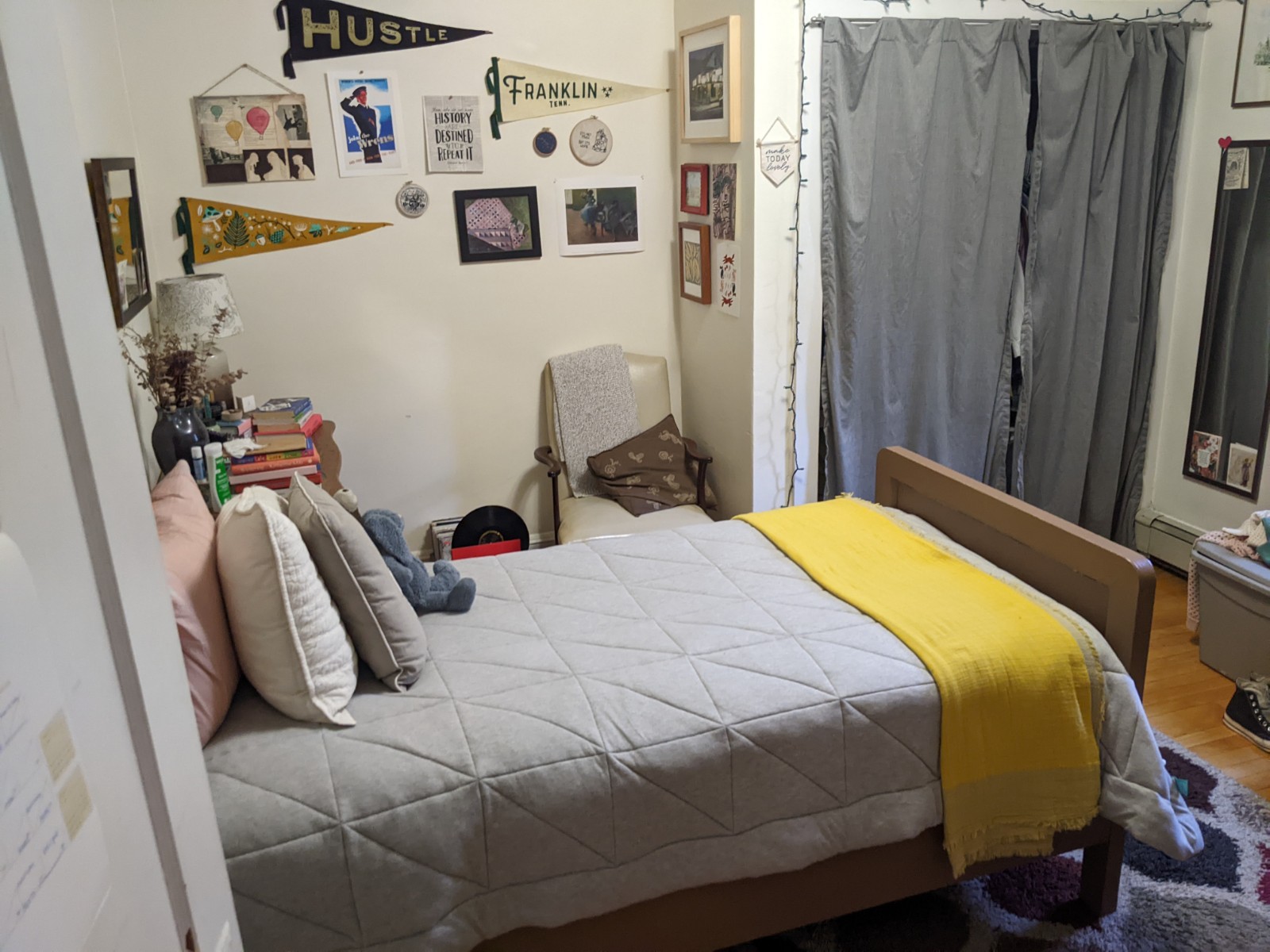 Description
Greetings potential roommate, 
Our fabulous current roommate is moving on to their next adventure this summer after being with us for 3 years.  Though they will be missed, it means a room at "Chezspruce" is going to be available in our 3 bedroom/1-bathroom apartment.  The room will become available August 1st .  We are looking for a roommate who is non-smoking of any kind, a working professional or a graduate student in their Late 20's or early 30's who is responsible, especially with paying rent and bills on time.  We appreciate roommates who are friendly, quiet, respectful,  those who have a sense of humor and are flexible.  We like to keep common areas clean, pitch in with chores and keep a low key household.  Though we have friends over occasionally, we are respectful of one another's space and are not looking for someone who will have guests over often (including S/O's).  We also enjoy each other's company and share some meals during the work week together, though that's not a requirement for you.  
The apartment is located on a quiet tree lined street in a two-family house on the 2nd floor located in Watertown just off Mt. Auburn Street.  The bus stop to Harvard Square is a 2-minute walk from the house, we are within 10 minutes walking distance of Coolidge Square where you can find the Town Diner and other shops, and we are a 20-minute walk to Watertown Square/Yard where you can find the 57 bus, the express bus and other stores.  Our landlord lives next door and maintains the landscaping in the summer, spring and fall months.  
The apartment is a good size with an open living room and dining room, nice size kitchen with a dishwasher and gas stove.  There is a washer and dryer in the basement along with a small amount of storage space.  There is also a large backyard with a shared patio.  The bedroom available is about 12'x12' and has a large-sized closet.  The bedroom is unfurnished except for a large bookcase.  The common areas of the house are fully furnished and we have a well stocked kitchen. 
The lease term for the apartment is August 1st  – July 31st, and roommates will need to sign the lease upon moving in and stay for the duration of the year long lease.  The monthly rent is $700 per person plus utilities (gas, electric, internet, and quarterly water) which run about $120 -250 depending on the season.    Per the terms in our lease there is absolutely no smoking of any kind allowed in the house or on the property.  Same for pets.  Subletting is also not allowed and it is the expectation that by signing the lease you will stay for the term of the lease.  We also want to be up front about parking. Our driveway only fits two cars and we both have a car.  During the summer months this is not an issue but there is no overnight parking on the street Dec. – March,  and if you have a car you are bringing  you would need to secure your own off street parking space during those months.
Here's a bit about us.  You'd be sharing the space with an elementary/middle school art teacher who works in the city of Boston, loves to cook, bake, draw, exercise, go for walks, and explore the city.  During the school year I am typically very busy with work and other activities.  I also get up very early during the school year, so I appreciate roommates who are respectful and keep the apartment quiet and clean during the weeknight, I try to reciprocate in the early morning.  On weekends I'm usually relaxing at home, catching up on chores and errands or out with friends.   I'm easy going about most things, appreciate clear communication between roommates  and enjoy a low-key household.  
You'd also be sharing the space with a recent Lesley University alum who is a clinician working at a therapeutic day school and studied mental health counseling and dance movement therapy.  I am originally from Texas and moved to the Boston area to pursue my Masters degree. I obviously love to dance and I like to be active. In my free time, I enjoy taking day trips to explore the area, read, spend time in nature, do anything art related, watch movies/TV shows and hang out with friends. I also have early hours, but I am quiet and respectful of different schedules. I am a clean and tidy person, super easy going and responsible and I believe that communication is key. 
The roommates we've lived with have all become our friends, though we all had our own separate busy lives.  When we were able to be together we enjoyed one another's company.  
If you're interested in interviewing for the room please include the following in your response:  
Tell us about yourself and your moving situation.  Have you lived in the area or are moving here for the first time?
What do you do for work/school? 

What does your work/class schedule look like?   

How long do you plan to stay in Boston?  

Your interests, hobbies, anything fun you'd like us to know about you.
Here's what the process looks like for becoming a potential "Chezspruce" roommate.  If we feel you'd be a good match from your responses we will reach out to schedule an interview with you.  Applicants who we decide to move forward with will be notified and will fill out a rental application and provide us with references.   The final step involves you running a credit check and providing it for our landlord.   If our landlord approves everything,  you'll pay 1st and last month's rent, $1400 total to our landlord and sign the lease.   If you have any questions about the process or about the apartment, please let us know in your inquiry.   We have more photos of the apartment available upon request.