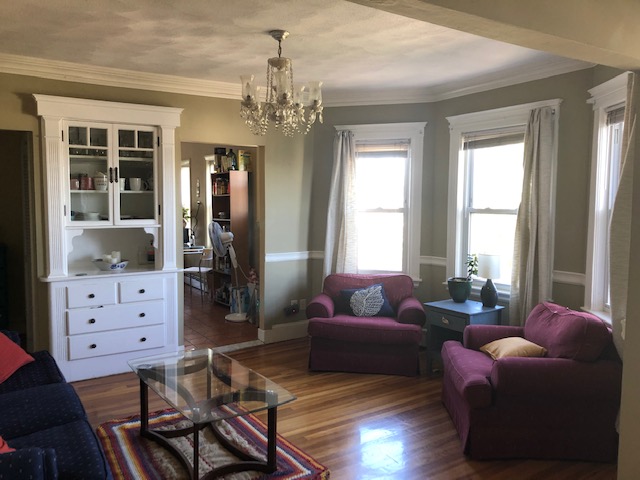 Description
I'm looking for two Christian women to be my roommates in my sunny, Somerville apartment! We have a small and a large bedroom opening up. One room is available immediately, the other is available September 1st. See below for details and let me know if you're interested.
For the first, smaller bedroom, we're looking for someone for July 1st, but honestly the room is available immediately. Rent for this bedroom is $430/month. Our lease renews in September, so it'd be ideal if whoever moved in was able to re-sign, but we're open to a shorter sublet as well. There's lots of common space in the apartment, but the bedroom itself is quite small. It has space for a twin bed and a desk, etc. Past tenants have lofted the bed to make more room. If you're a minimalist or dream of living in a tiny house it'd be perfect for you!
The second, larger bedroom is available September 1st. Rent for this room is $800/month and we're looking for someone to sign a year-long lease. We may have some flexibility with the move-in date if the new renter needed to move-in in August.
The apartment itself is incredibly spacious and sunny. There are hardwood floors and windows in almost every room. We also have an enclosed porch and a little front garden that we tend. Other amenities include a dishwasher, in-unit laundry, and plentiful basement storage. Unfortunately no pets are allowed. You can find some pictures in the link; I'm also happy to send more. https://drive.google.com/drive/folders/14B_HzB_biJHsEeVbY2brImmdiymHkTuj?usp=sharing
We're a short walk from Assembly Row and the Mystic River, and a 15-minute walk from the Orange Line. There's also plenty of on-street, permit parking. Some of us have cars, some don't, either has worked fine.
About the housemates! We're all Christian women in our early 30s, and we all work in education. We value having a clean, welcoming space. Each of us needs our introvert time (especially during the school year!), but we also enjoy a friendly relationship with each other (chatting while cooking dinner, taking care of the garden together, and occasional hikes, movie nights, ice cream trips, etc.).