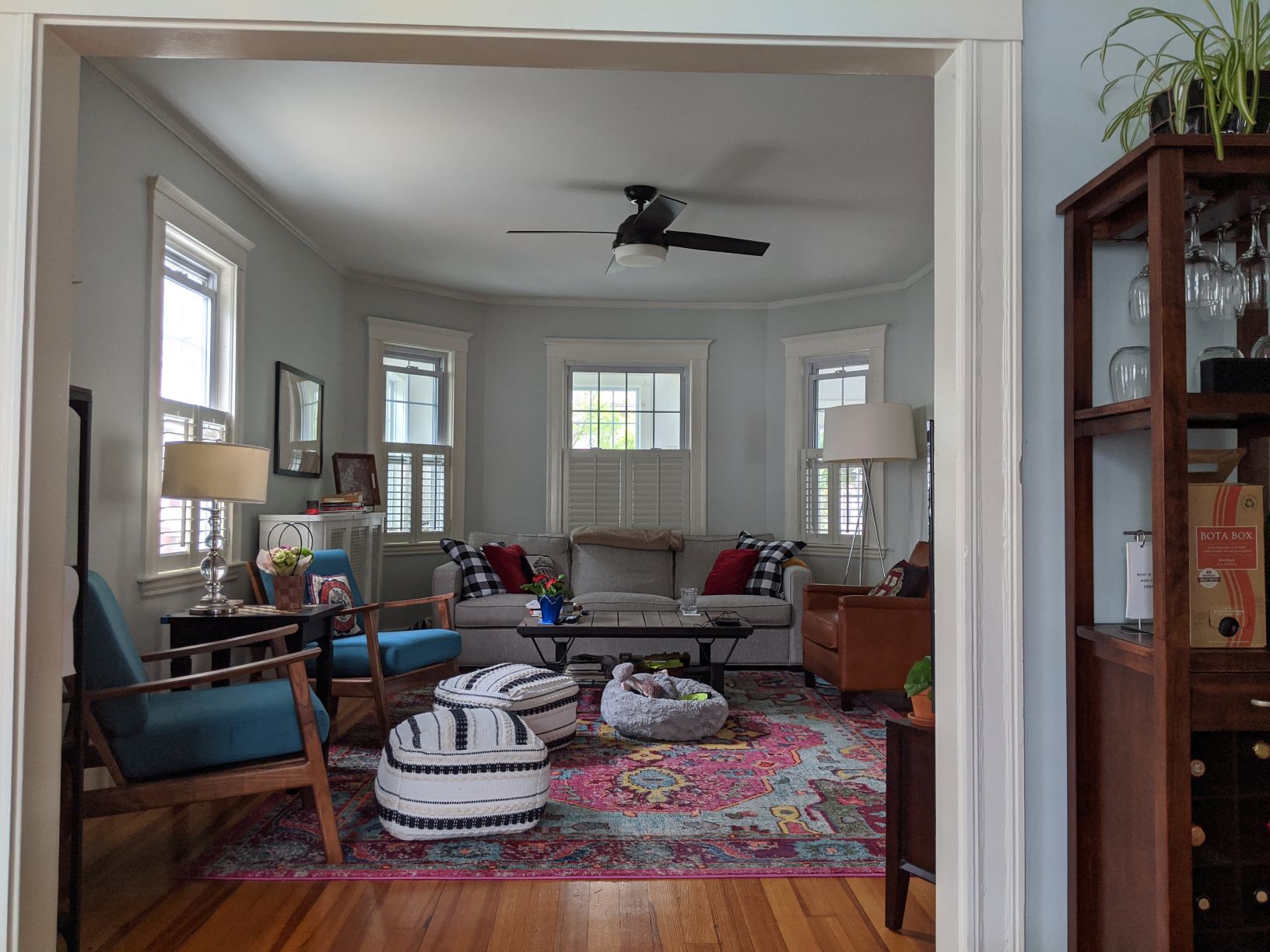 Description
I have two rooms available in my West Roxbury house for singles or a couple. Read on for details!
House personality:
This home is becoming a gathering place for community-building, hospitality, and fun times! It's ideal for getting to know neighbors, having semi-regular gatherings (when not social distancing during a pandemic — think neighborhood group, or movie or game nights, or brunches) and parties, and being able to host friends and family overnight– and without kicking people to the couch. Ask me about the ways I like to bring people together 🙂 My previous roommates and I also have enjoyed good communication, encouraging one another, sharing a bottle of wine over a movie, and eating together/cooking our separate things together when we can. It'd be great to find a housemate(s) who also sees home as more than simply a place to sleep when they're not working. 
About me:
People and food summarize a lot about me! I love to cook, bake, travel, talk about deep things, read, spend time outside, ski, and sing. I am a moderate extrovert (I do like alone time) in my mid-30s, generally work 9-5 (in higher education student services), love adventures and fun events, but love being home, too. I'm active in my church community (Church of the Cross), with faith an important part of my life. I started putting down roots in Boston 6 years ago, but previously I've called Chicagoland, Virginia, and Prague "home". My current housemate is relocating to Ohio for school, but together we've enjoyed activities (occasional Trillium or bike trail outings) and getting sucked into TV series together. Together we've lived with a married couple, so while I'm now focusing my search on finding single housemates, I'm open to a couple, as well. During these Covid-times, I work from home half the time and at the university half the time. At work, Covid-precautions are abundant; I also get tested at least once weekly.
House Logistics:
4 bedroom, 2 full bath single-family house in West Roxbury (Boston). 2-4 roommates total (me + 1-3 tenants (3 if includes a couple)) across 3 bedrooms, plus one guest room. Large living room, formal dining room, awesome country kitchen perfect for cooking up a feast, enclosed porch, backyard with patio "living room", half-finished basement with family room and kid toy room, bathroom, laundry. Limited storage in walk-up attic. Ample street parking around.

Transportation – several different options:

the house is near Lagrange St and VFW Parkway, making a quick escape by car to JP, Roslindale, Dedham, Newton, Brookline, or the city center really easy. I-95 is also not far off.
The West Roxbury commuter rail station (Needham line) is 0.5 miles from the house and can take you to Ruggles, Back Bay, South Station, etc.
The 37 bus stop is on the same block as the house, and the bus goes to Roslindale Village and Forest Hills station. There are other buses on Centre St about 0.6 mi up the road. I can definitely talk to you about whether this location is ideal for your work and lifestyle (I have plenty of thoughts on it)!
Bike! (It takes me about 35 min or less to ride 7.8mi to Kenmore Sq for work)
The Partners Healthcare shuttle has stops not too far off, but they're most easily accessed by car or bike.

The house is also 0.7 miles to the YMCA, the local library branch, and an ice cream shop. All that central West Roxbury has to offer is only 0.1 miles beyond that. Home Depot and Roche Bros and Star Market groceries are accessible, and it's only a 10 minute drive to Wegman's. Green space abounds nearby, including popular Millennium Park.

The house is furnished in shared spaces but your bedroom would be unfurnished. Your bedroom: either 13'2″x12'6″, ceiling fan, two windows with great afternoon light, a decent medium-sized closet ($1085 price), OR 11'x11′, ceiling fan, two windows with great morning light, a slightly shallower-sized closet ($1050 price).

Pictures show some of the shared living spaces. More pictures, including of available bedrooms, available upon request.

Stairway to second floor is tight, so queen or king box springs

won't

make it up; split or no box spring is necessary. I don't know about full-sized box springs!
More important info:
The larger bedroom is available immediately; the smaller bedroom is available from mid-March. 

Dog-friendly, upon mutual agreement. Other pets? Let's discuss.

Up-front costs are first month's rent and security deposit. Larger-room rent is $1085 ($1275 for couple) and smaller-room rent is $1050. Both are inclusive of utilities, including gas/heat, electric, internet, limited TV (Netflix, Prime, Hulu, Disney+, local channels), water/sewer, and security. References and credit check (to be paid by renter) upon landlord request. If the house sounds suitable to you but you have questions about rent,

please still reach out!
Ideal roommate:
A working professional(s) late 20s-early 40s-ish

Understanding that many faith-based conversations happen in this house

Social, does not retreat to bedroom daily

Considerate of other roommates, participates in house chores, (co)hosts gatherings, etc

preference may be given to single females

no overnight significant others (they can use the guest room though, when available)

no smoking of any kind or recreational drugs on property

long-term lease preferred
Next Steps:
If you've read to the end, congratulations! If you're looking for an intentional and hospitality-oriented housing, please reply with a bit about yourself and your phone number. Due to scamming and spamming, I request you include "hospitality house" in your outreach to me. Thanks!